Chocolate Shop in Columbus, OH
Since our founding in 1911, Goumas Candyland has been a premier provider of handcrafted chocolates and candies. We specialize in hand-dipped chocolate, caramel apples, fresh roasted nuts, truffles, buckeyes, chocolate-covered chips and more. Need wedding favors or gift baskets? No problem! We accept custom orders and can package your chocolates to fit any occasion.
We may close any of our locations during hazardous weather conditions.
Please call the location prior to your visit to ensure we are open.
Thank you for your understanding. We're a family-owned and –operated company that has been passed down through 5 generations! All of the candy recipes we use have been handed down throughout our family and are completely proprietary. Only family members are allowed to make the candies we sell! We're able to create custom chocolates for weddings, graduations, school fundraisers, etc. and will decorate them with custom boxes or bows. We take pride in using only the very best ingredients, including very high-quality chocolate. Our chocolates and candies are available to ship worldwide through our online store.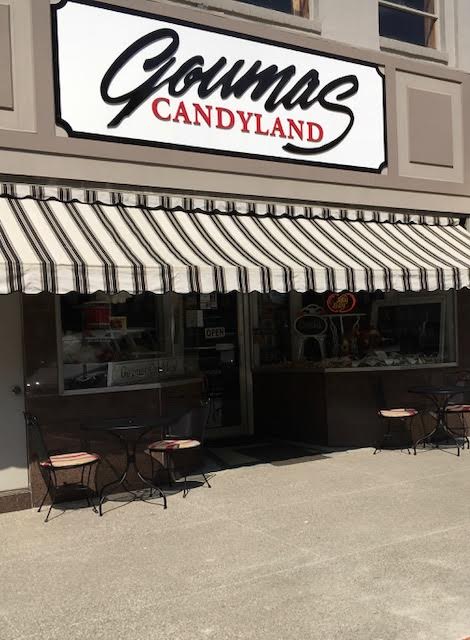 Handmade Savory Sweets
When you take a bite of hand-dipped chocolates from Goumas Candyland, you're going to have an experience like no other. From the delicate sweetness of the flavor, to the richness and creaminess of its texture, to the amazing quality of the candy, our chocolate sets the bar for excellence! Chocolate enthusiasts worldwide know our chocolate shop in Columbus, OH as the place to get truly high-quality chocolate. Our secret comes from using the freshest, best ingredients and traditional recipes that have been closely guarded through the generations. Every single treat we create is one we're certain our customers will love—from the first bite to the last morsel.
Though we're known for all of our exceptional chocolate creations—buckeyes, truffles, chocolate-covered treats and more—we're also a complete candy store in Columbus, OH. We also produce hand-dipped caramel apples, toffee, roasted nuts and even sugar-free options, to satisfy your sweet tooth no matter what your craving calls for! Our shop is a storied institution in Ohio and for more than a century, we've brought mouth-watering sweets to discerning customers worldwide. If you're looking for chocolate or candy that's a cut above the rest, visit Goumas Candyland. We'll give you an experience that your taste buds aren't soon to forget!
Proudly offering chocolate such as buckeye candy to residents of the following areas:
Knox County
Coshocton County
Muskingum County
Perry County
Fairfield County
Franklin County
Delaware County
Indulge Yourself
From chocolate-covered nuts to sugar-free candies and specialty creations, we've got the sweet treats you'll love to savor! Visit our online store today and order yourself a treat.
Shop Now